Episode 100 - Grace Megachurch
[ 56:00 ]
Play Now
|
Play in Popup
|
Download
(1781)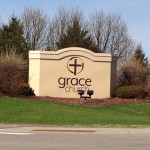 Wow!  We've made it to 100 episodes without a single week missed.  Take that all you podcasts that didn't do that!  For our 100th episode, we went to Grace Evangelical Free Church in Eden Prairie, Minnesota.  We sat in the pews, watched and participated in the service, and then went back to Molly and Nick's house to talk about the experience.  It was, to say the least, eye opening.  The podcast explores our responses to the service and to the people we saw there.
We'd like to thank everyone who donated to Fearless Comedy Productions so we would be forced to attend this service.  We didn't enjoy ourselves but at least Fearless made $666 off of our pain!
Pictures of the church below the fold:
Here's a link to the sermon we saw if you want to watch it.