Episode 12 - Everything gets you Soaking Wet
[ 38:35 ]
Play Now
|
Play in Popup
|
Download
(1951)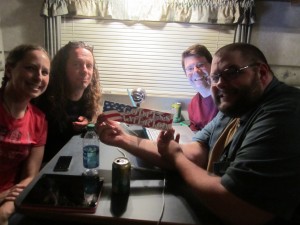 This week we interview Ronn Bauman (Scaramouche) of the Tortuga Twins about 12 hours after we first interviewed him because Tim was a dumb fuck and overwrote the original podcast.  So yeah, this whole podcast is us trying to remember how interesting we were the first time we talked about all of this stuff.  You be the judge.  Ronn is a huge fan of the podcast and promises that if he ever relocates to Minnesota, he will find a way to get himself included in every podcast in a creepy stalker fashion.  We talk about how we, as atheists need to avoid underestimating the "opposition" and Ronn answers our five questions.
P.S:  We had such a great time talking to Ronn, we recorded a second podcast (that Tim did not delete) and we'll be airing that one sometime in the next couple of months!
Edit to add: Hi everyone, Molly here. I want to apologize for misquoting the study I mentioned about atheists. I said the study found people would rather leave their child with a terrorist than an atheist. I misremembered the actual study I meant, which shows that those polled trust rapists more than atheists, and would rather leave their child with a random religious person than a daycare run by an atheist. I deeply regret the error, and I hope you can all forgive me my off-the-cuff mistake. I would also like to state, for the record, that terrorism is perpetuated by all races and creeds; if I say terrorist, I never mean "Arab" or "Muslim" any more than I mean "Christian" or "pro-lifer" or "Black & Tan."
Show notes below the fold:
We briefly mention the Ark encounter in Kentucky.  If you haven't heard of it, you can check out their official page.  Yes, this is a real thing.
A little bit of information about "Brights," which we incorrectly identify as starting with Richard Dawkins.  That's right Richard Dawkins, everything that we don't like about atheism is YOUR FAULT – even when it's not!