Episode 226 - Election Day
[ 48:30 ]
Play Now
|
Play in Popup
|
Download
(1070)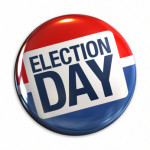 This week's episode is all about election day!  If you haven't voted yet, you should go do it. Since we recorded a week ago, we don't know how things look now but hopefully we are on the way to a Not Donald Trump presidency (edit: FUUUUUUUUUUUCK).  If we aren't, well, shit.  We talk a little about the next steps no matter what happens in the 2016 elections and look back at some past elections.
Nick mentioned a video explaining ranked choice voting and here it is!
Tim mentioned a blog post he wrote about Bernie Sanders and that's here.
And here is the video we mention with Penn Gillette talking about Donald Trump.