Episode 165 - The Satanic Temple
[ 1:09:02 ]
Play Now
|
Play in Popup
|
Download
(1526)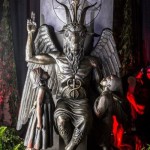 This week, we are joined by John Wreisner, Minneapolis chapter head of the Satanic Temple. We talk about the mission and ideals of the Satanic Temple, which are actually pretty cool.  We also learn a lot about some seriously messed up shit taking place in a Minnesota School district.  John was a really great guest and this episode is really terrific.  We hope to work with him and The Satanic Temple  in the future!
Note: There is some weird stuff going on with the sound on this one.  I'm not sure what caused it but I'll be looking into it so it will not become an issue on future podcasts!  Sorry if you have trouble understanding anything! – Tim
Here is a link to their Facebook page!