Episode 121 - Edge of Tomorrow
[ 33:44 ]
Play Now
|
Play in Popup
|
Download
(1260)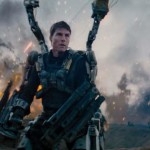 This week, we talk about one of the more overlooked sci-fi films of 2014, Edge of Tomorrow or, as it has been re-named for home release, Live Die Repeat.  As is the case with most of our in-depth movie conversations, you can bet there will be a lot of spoilers. In fact, we discuss the ending of the film about five minutes into the podcast.   It probably isn't the best geek film of the year but it was a very pleasant surprise and we all enjoyed it.  We also read five answers from Boulder!
Show notes below the fold
Here's a link to that Myers-Briggs personality test we mentioned.