Back in Episode 89, we talked with guest Christopher Jones about working in the comics industry and one of his upcoming projects, Parallel Man!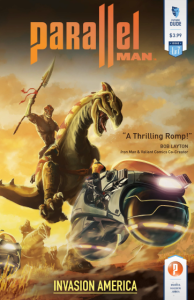 I just finished reading the first issue, and I just wanted to share a few thoughts on it:
Parallel Man is a science adventure comic. Much in the same way that Star Trek, Blake's 7 or even Doctor Who can have just about an unlimited number of exciting settings, PM is the same. Rather than travelling though space or time (and space), Parallel Man deals with Skip Technology that allows you to jump between multiple Earths. Some of them are fungus worlds, others are populated by reptilian humanoids, and many have been dominated by a threat that is revealed in this premier issue.
Rather than expanding their empire out, these people have expanded their empire sideways, into different Earths. This seems to have led to amassing some pretty awesome technology, and most of it is demonstrated rather than explained, something I've always been partial to in comic book storytelling.
Comics are a visual medium, and as such, Parallel Man doesn't rely on exposition to convey what's happening, they show it and you pick it up as you go, because you're clever and don't need to have your hand held though a comic.
First issues are tricky. They have more weight to pull than any other issue in a series, because they need to introduce the reader to this world and the characters in it, give you just enough plot to set the hook, and then somehow make you give a shit in only about 30 pages. First issues can be clunky, but I think Parallel Man pulled it off well. They dive right in, and by the time the issue is over, I wanted more.
Parallel Man: Invasion America #1 comes out October 8th. I'd highly recommend talking to your Local Comic Shop to pre-order an issue. As it's a new comic by a new publisher, there's a good chance they won't pre-order a ton of them, and you should check it out.
This could be the start of something big. Future Dude is planning animation, mobile games, and deck builder games all running… in parallel. Here's some preview animation, with some release date info.