Episode 82 - The Arrogance of Atheists
[ 56:31 ]
Play Now
|
Play in Popup
|
Download
(1564)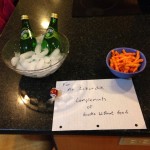 This week we are joined by our friend Mark Lazarchic to talk about why he does not admit he is an atheist.  His reasons are not new or unique, which is not to say they lack justification.  We talk with him about the perceived and actual behavior of the atheists he knows as well as his own reluctance to identify with his beliefs.  We talk over each other a lot. Somewhere in there, we talk about other stuff like improvisational comedy, health care, Libertarianism, and the fact Mark is a big fat hypocrite.  Mark also answers our five questions.
Pictured above: Mark demanded sparkling water and Cheetos waiting for him.  And we provided them.  Future guests shouldn't expect the same treatment.
Show notes below the fold
Here's a link to Mark's software company, Otterology.
Mark mentions the Coke random acts of kindness video.