Episode 55 - CONvergence Wrap-up
[ 37:39 ]
Play Now
|
Play in Popup
|
Download
(1574)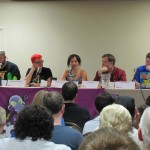 We had a great time at CONvergence 2013 and we wanted to take some time to tell some stories from the weekend.  If you check the show notes, you will find links to a lot of different panels you may have missed because you were doing other stuff at the convention or you didn't actually go to the convention.  It was a great year for all of us.  We look forward to next year's con and to another year of Geeks Without God!  We also look forward to your favorite CONvergence stories!  Please share in the comments! We also read off Robin Raianiemi's answer to our five questions.  Her movie selection sounds positively awesome!
Show notes below the fold:
Here's a link to the Judging a Book by It's Cover panel.
Speaking of that panel, we'll be playing that structure at the Vilification Tennis show on July 26th and 27th so if you are listening to this podcast before the show and you live in the Twin Cities, please come out and watch!
We mentioned The Ridiculous Puppet Company.
Here's a link to A Tusken Raider playing violin to "Satan Planted Dinosaur Bones."
A link to John Picacio's blog, where he talks about CONvergence.
Want to know more about Robin's movie "Latitude Zero?"  Here you go!