Episode 40 - Skep-Tech 2013 Panel
[ 45:13 ]
Play Now
|
Play in Popup
|
Download
(1755)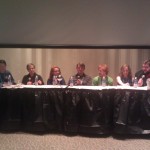 We were guests at the Skep-Tech conference last weekend and moderated a panel featuring Greta Christina, Zach Weinersmith, Chelsea Du Fresne and Tim Farley (it's pronounced FAR-lee; sorry for the mispronunciation in the intro, Tim!).  We asked our panelists some questions about skepticism and technology and then opened up the floor for audience questions.  The sound quality is a bit poor this week because we weren't able to take the feed directly from the sound board and there are a few edits when it was difficult to hear an audience question (our sincere apologies to anyone whose question was trimmed).  Also, for the first time ever, we don't ask our panelists our five questions! CRAZY!
Photo courtesy of Bob Alberti.
If you'd like to know more about our panelists including where they are blogging and tweeting, information is below the fold:
Tim Farley created the web site What's The Harm.  You can follow his Twitter feed here.
Chelsea Du Fresne helped organize the conference (great job Chelsea) and you can follow her on Twitter here.
Greta Christina's blog can be found on the FreeThought Blogs network.  Her Twitter feed is here.  She is also the author of "Why are you Atheists so Angry: 99 Things that Piss off the Godless."
Zach Weinersmith is the creator and illustrator of Saturday Morning Breakfast Cereal.  His Twitter feed is here.
And hey, if you missed it, you can also follow Tim, Molly and Nick on Twitter.
We also recorded stand-alone episodes with Greta and Zach that will air within the next eight weeks so you have that to look forward to!