There's another of those Facebook memes floating around, and this time, it's all OVER my feed. Maybe you've seen it?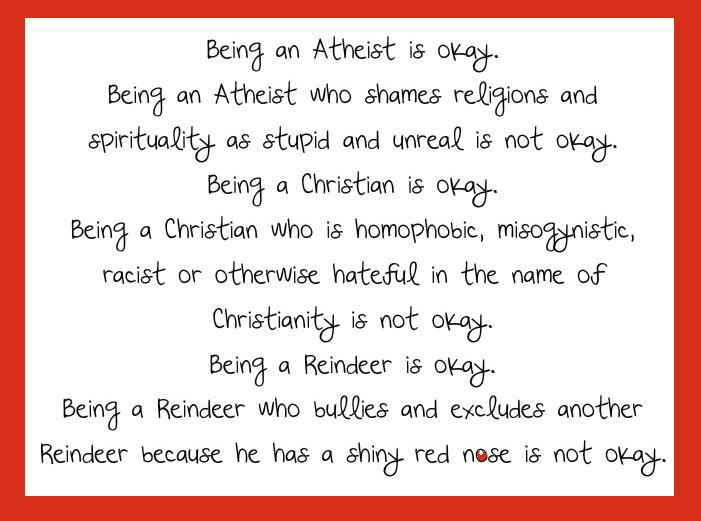 Yes, I get that it's got a joke at the end. But I want to discuss the ACTUAL message of this recently pervasive meme.
"Being an atheist who shames religions and spirituality as stupid and not real is not okay." 
First of all, if someone saying your religion isn't real shames you, that's something you need to figure out for yourself. If you truly believe in your dogma, if you are confident and utterly certain of your own beliefs and religion, then nothing anyone says should be able to "shame" you about it.
"Being a Christian who is misogynistic, homophobic, racist, or otherwise hateful in the name of Christianity is not okay."
So, this meme is saying that an atheist who says to someone "God isn't real" is analogous to a Christian calling someone a faggot and telling them they will burn in hell. That is some serious bullshit. In no way is that comparable behavior. Unless the atheist is physically harming someone, or doggedly following them around and mocking them for being religious, or chronically harassing them online, these are in no way the same thing.
Misogyny, homophobia, racism… these are heinous things. Me telling someone I think their religion is silly is a dick move at most. I think it's dangerous to propagate this notion that if you're an atheist, you have to keep your mouth shut about it because it's not nice to tell people that their supernatural beliefs are silly or stupid, and I think it's truly harmful to declare that doing so is as bad as racism or gay-bashing.
Race, homosexuality, gender…these are facts. You're born gay, you're born black, you're born a woman. You don't get to choose. Religions and spirituality are IDEAS. You literally get to choose whichever you like best, whichever seems the most right to you. They are ideas, and ideas are never above critique.
One of the comments on one of the postings of this meme that I saw amounted to "We should all tolerate and respect everyone's differences and beliefs no matter what." Well, some people think it's perfectly acceptable to seriously beat their kids when their kids misbehave. Some men think hitting women is acceptable. Some women think it's okay to fake a pregnancy to trick a man into staying with them. Some people think cheating on your spouse is okay. There are people who believe that God doesn't want them to get their kids medical attention, ever. There are people who believe sex with children is normal and loving. There are religions that preach hate and harsh judgment. There are atheists who think feminists should just shut up about women's rights.
There are a lot of people who believe a lot of horrible fucking things. So where do you draw the line when it comes to respecting and tolerating their differences?
Generally, my rule is if it's not hurting anyone else, it's okay. However, "hurt" is in no way an objective term or concept. It may hurt someone's feelings that I think it's ridiculous that they believe in god, but there's no malice intended. If I were to publicly humiliate someone, or go out of my way to tell them how stupid they are because they are religious, now there's malice. I don't do that. Because I'm not usually that much of a fucking asshole. Usually.
I'm not really sure how to sum this up. I've written a few paragraphs, but they weren't quite right. This meme doesn't have me angry or butt-hurt or offended. (It's damn near impossible to actually offend me.) What I hate is the virality of these things, and how quickly people pass it on without really thinking about it. And the fact that there's a "funny" bit at the end just makes people think less about the message of the first part.
Just think. All I want you to do is think. Be able to defend your ideas, for your ideas, opinions, and beliefs should be worth defending against a legion of dickwads. And if they aren't, maybe they should be reconsidered.