Episode 200 - The Music of our Lives
[ 1:10:26 ]
Play Now
|
Play in Popup
|
Download
(1228)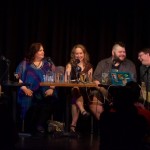 Our fabled 200th episode has arrived!  Recorded live on stage at the Bryant Lake Bowl, we are joined by Barb Abney and Jeremy Messersmith to talk about the mix tapes of our lives.  All five of us go through a list of songs that sort of tell a story about who we are.  There's a lot of music and we probably should have put together playlists that we could link to but at this point, you should probably just go look all of this music up for yourself.  Unless you already own it.  Then good for you!
Technical note: Molly's microphone was going in and out during the recording of this episode so she can be a little difficult to hear.  For those of you who know Molly, it is definitely not because she is too quiet.
We also launched our Patreon campaign the day we recorded this episode!