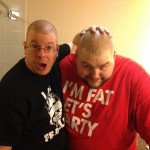 Thanks to the generous support of fans like you, the three of us were able to raise $666 for Fearless Comedy Productions this last weekend.
As you may recall, Tim and Nick promised to shave their heads if we reached $333.  You an see photographic evidence we reached that goal.  In the twelve hours after their heads were shaved, no fewer than ten people didn't recognize Tim.  One of those people was Molly.
For $666, we promised to go to mass at Grace Church in Eden Prairie.  We are going to go attend quietly and respectfully.  We will not troll the church with atheist T-shirts or anything like that.  When we are done with the service, we'll go home and record our 100th podcast about the experience.
When we record the podcast, there is a decent chance we'll be less than respectful.
If you'd like to know more about the church, here's what they believe.
Thanks again for your generosity.  We may not be looking forward to going to church but at least we are suffering for a good cause!