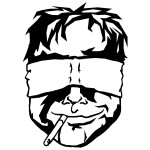 Hey Everyone-
Die Laughing is this weekend and our Geeks Without God schedule is all set to go!  All times are Central Standard Time.  You can come out to see us at the DoubleTree in Bloomington or you can stream us online!
At 12:00 noon, we will be talking with comedian, podcaster, and writer Levi Weinhagen.  We'll be talking with him about the baggage that comes with identifying as an atheist.
At 9:0o PM, we will have Comic book writer Z.M. Thomas, writer of "The Bible 2" and "Abe the Aborted Fetus."  He will talk to us about his work and about a new project coming out soon!
Remember, if we can raise $1000 by the end of our 9:00 podcast, the three of us will go to a Scientology center and be audited.  We will then record a podcast about our experience so you can all share in our pain!
You can make an online contribution at dielaughingmarathon.com or in person at the event.
ALSO, the silent auction will feature a guest spot on our podcast!  If you've ever wanted to be a guest but we just haven't gotten around to asking you, come out and bid!  Last year, a few out of town folks made bids by proxy so we'll be happy to help with that.