Episode 95 - The Soft Touch
[ 39:59 ]
Play Now
|
Play in Popup
|
Download
(1281)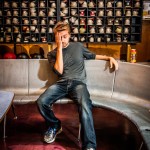 This week's episode was recorded over the long Die Laughing weekend so if your co-hosts sound a little tired, it's because we'd gotten very little sleep.  In between live recordings with Patrick Bauer and Elizabeth Ess, we snuck up to Tim's hotel room to record an episode with Ben San Del.  Ben is an atheist and he'll sometimes talk about his beliefs in his comedy.  Other times, though, require the soft touch.  We talk with him about using a soft touch to get his audience thinking about what they blindly believe and possibly getting to think critically about other things they have accepted without question.
As promised, here is a link to Ben's web site!
Show notes below the fold:
For you non Minnesotans, here's information about Smitten Kitten!