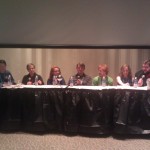 Not sure if you remember, but we were guests at SkepTech last year.  We got to record three podcasts at the event including a great panel discussion, an episode with Greta Christina and another with Zach Weinersmith.
Well SkepTech is taking place this weekend and while we won't be appearing this year due, in large part, to some big event over at the Airport Hilton, we definitely want to do all we can to support the event!
Registration is free (there is a suggested donation of $10 if you can afford it) and passes are available at the door.  Guests include Rebecca Watson, Heina Dadabhoy, Hemant Mehta and lots more!
They have recorded a little audio promo if you'd like to know more!  Listen up!