Episode 50 - National Park Boners
[ 42:46 ]
Play Now
|
Play in Popup
|
Download
(2143)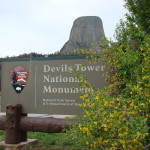 We have a week filled with geeky boners of all kinds.  Not your usual geeky topics, mind you.  Rather, we talk about things like marathons and nuclear missle launch facilities.  Because when you talk about what makes you geek out, it isn't always comics or movies or TV.  Sometimes it's the stuff that just makes our geeky little hearts beat faster.  We also talk about video games so we manage to bring it back to a core geek topic.  We also read five answers by Stacy from California!
Also, we have a brief blurb for Camp Quest Minnesota at the end of the episode.  Over the holidays last year, we raised enough money to support one scholarship for a child who otherwise couldn't afford to go.  If you have kids in the right age range, now is the time to sign them up!
Show notes below the fold:
Here's a picture of Nick's sign from the marathon:
If we somehow surprised you with the Matt Smith news, here's the BBC article.
Here's a link to the National Park Service's page on Minuteman National Historic Park
A picture of Tim's family in the Minuteman Control Capsule