Episode 47 - Why are we Atheists so Angry?
[ 34:47 ]
Play Now
|
Play in Popup
|
Download
(2699)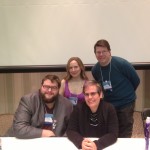 Waaaay back at Skep-Tech, we had the opportunity to sit down and record a podcast with Greta Christina to talk about her book – "Why are You Atheists so Angry – 99 Things that Piss off the Godless."  Not only did we have an opportunity to talk about a lot of things that piss us off, we asked Greta our five questions.  Among other things, we got to learn about her secret geeky hobby which, we have to say, is pretty awesome.  Also, in the tradition of Geeks Without God giving away stuff, we have a copy of Greta's book to give away!  Just listen to the podcast and you will learn the very simple rules you need to follow to be a winner!
Show notes below the fold:
You can click on Greta's name up above to link to her blog on FreeThought Blogs.
Greta's blog post "Atheists and Anger."
In case you haven't seen it, here's a link to Greta's Skepticon talk.
Greta metions the book "The Good News Club: The Christian Right's Stealth Assault on America's Children."  If you have kids, we definitely recommend the book.
Here's a picture of the Buddhist statues in Afghanistan being dynamited by the Taliban:
Greta talks about the movie The Sessions.
Greta also edited "Paying for it: A Guide by Sex Workers for their Clients."
Also, Greta's latest book is "Bending: Dirty, Kinky Stories about Pain, Power, Religion, Unicors & More"
A link to Pal's Takeaway in San Fransisco.  Also Dynamo Donuts.