Man, some serious and sad stuff this week, still enjoyable, though. Glad Deadpool was out this week, to lighten things up a bit. More below the cut:
Avengers #6
Jonathan Hickman, Adam Kubert, Dustin Weaver
So the Builder Machine Code is broken, and we find out that the weird nude Mars-born guy is Nightveil, which is a character from the newuniversal Warren Ellis stuff, which reminds me of Planetary in a bunch of ways. It also reminds of of what DC is doing right now, bringing all the Stormwatch, Authority, and Vertigo titles into proper DC continuity, and getting all their intellectual property ducks in a row. I'm all for this. Why invent new characters, when you have all these older characters that already exist, just begging for a great writer? Fun stuff.
Crossed Annual 2013
Simon Spurrier, Gabriel Andrade
Did we just find out what caused the Crossed, or not? DAMN YOU, UNRELIABLE NARRATOR!
Daredevil #23
Mark Waid, Chris Samnee
Aw man, quality bromance issue between MM/DD and Foggy Nelson. Dem feels.
Dark Avengers #187
Jeff Parker, Neil Edwards, Joe Quinones
Alternate universe story line continues, seems like we're about to find out what's really going on, and who's pulling the strings.
DARKNESS REIGNS!

Deadpool #5
Gerry Duggan, Tony Moore, Geof Darrow
Deadpool Vs Ronald Reagan IN SPAAAAAAAAAACE. Also: murder chimps.
Indestructible Hulk #4
Mark Waid, Leinil Francis Yu
Banner hooks up with his research team, trolls them, then gets launched out a torpedo tube to destroy some underwater stuff. I could have done with more Banner and less Hulk. They need to take a lesson from Fraction's Invincible Iron Man. Still good, though.

Locke & Key Omega #3
Joe Hill, Gabriel Rodriguez
I'm half-tempted to wait until the rest of these come out, and read them all at once. Who am I kidding? I don't have that kind of willpower. These are so good that it makes me angry that I have to wait so long between issues. ARG.

Nova #1
Jeph Loeb, Ed McGuinness
I'm not a big Nova fan. I've read some of the Marvel Cosmic universe, but it's never really been my thing. This was alright, so far. Kind of a weak intro issue, but the story seems a bit Last Starfighter, which could be good or bad, depending on what they do with it. Time will tell.
Saga #10
Brian K. Vaughan, Fiona Staples
Noooooooooooooooooooooooooooooooooooooooooooooooooooo!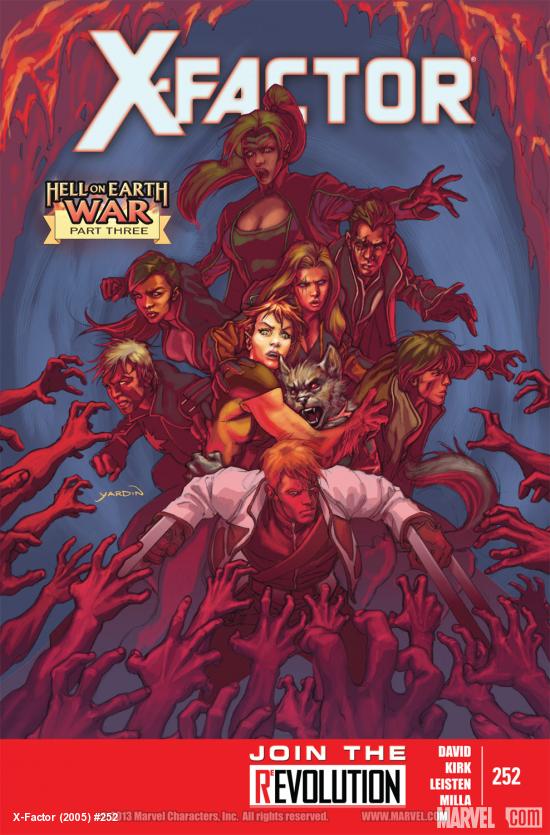 X-Factor #252
Peter David, Leonard Kirk, David Yardin
All the gods and devilish leaders of the various Marvel underworlds/afterlives are trying to murder a member of X-Factor's children because of something arbitrary that was set in motion by some sort of creator/godthing. Not a fan of the story, obviously, but the characters and dialogue are still good.