Episode 25 - Twelve Hated Birds of Christmas
[ 48:05 ]
Play Now
|
Play in Popup
|
Download
(1173)
Happy Holidays and, more specifically, Merry Crimbo!  We know that most folks (atheists included) are spending Christmas day unwrapping presents, eating massive amounts of food and assembling shit for their children.  If you feel like spending part of your day listening to our podcast, you will hear us talk about our favorite and least favorite Christmas stuff.  We also tell Christmas stories.  Molly shares how old she was when she finally stopped believing in Santa Claus.  All that and we even manage to read another listener's answers to our five questions!
Show notes below the fold:
Here's a picture of Tim's present (photographed with Indiana Mickey, Indiana Potatohead and Indiana Kermit):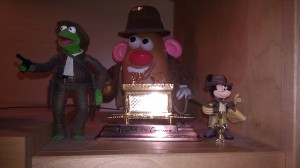 If you are interested in Roger Ebert's take on A Christmas Story, you can read it here.
Here's a link to the video Molly referred to: Oh Holy Crap.
Here's Patricks Rothfuss' Amazon page if you want to know about his books.
We mentioned Birdchick Sharon Stiteler.  Here's her web page.
And finally, here's a picture of a tray featuring all twenty-four difference confections Pat made this year: