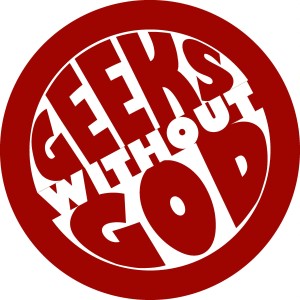 Geeks without God is a new podcast hosted by Molly Glover, Nick Glover, and Tim Wick.  We are geeks, atheists, and comedians. Our goal is to do a podcast that combines the three things we are passionate about.
Each podcast will focus on a hot topic in the atheist community as well as whatever geeky stuff has captured our nerdy hearts that week.  If we're lucky, it'll be something that does both.
Our first podcast will be recorded live at CONvergence 2012 on Saturday the 7th at 9:30 in the morning in Atrium 3.  We'll talk about the religious themes in Prometheus with guest Melissa Kaercher.
And because CONvergence 2012 is also SkepchickCon, we are hoping we can coax one of the Skepchicks or FreeThought bloggers to join us so we can all talk about skeptical geekery.  Or something.
There will also be jokes! And free stickers!